Interview with Maestro Massimo Belli
Thursday 19 May 2022, 16:00
Massimo Belli, director of the New Chamber Orchestra "Ferruccio Busoni" will be the guest of the program "Confinamenti" broadcast on May 19th from 4 to 4.45 pm. The Maestro will anticipate the summer programs of the ensemble. Click here to listen the podcast.
bentornato, mozart!
Wednesday 4 May 2022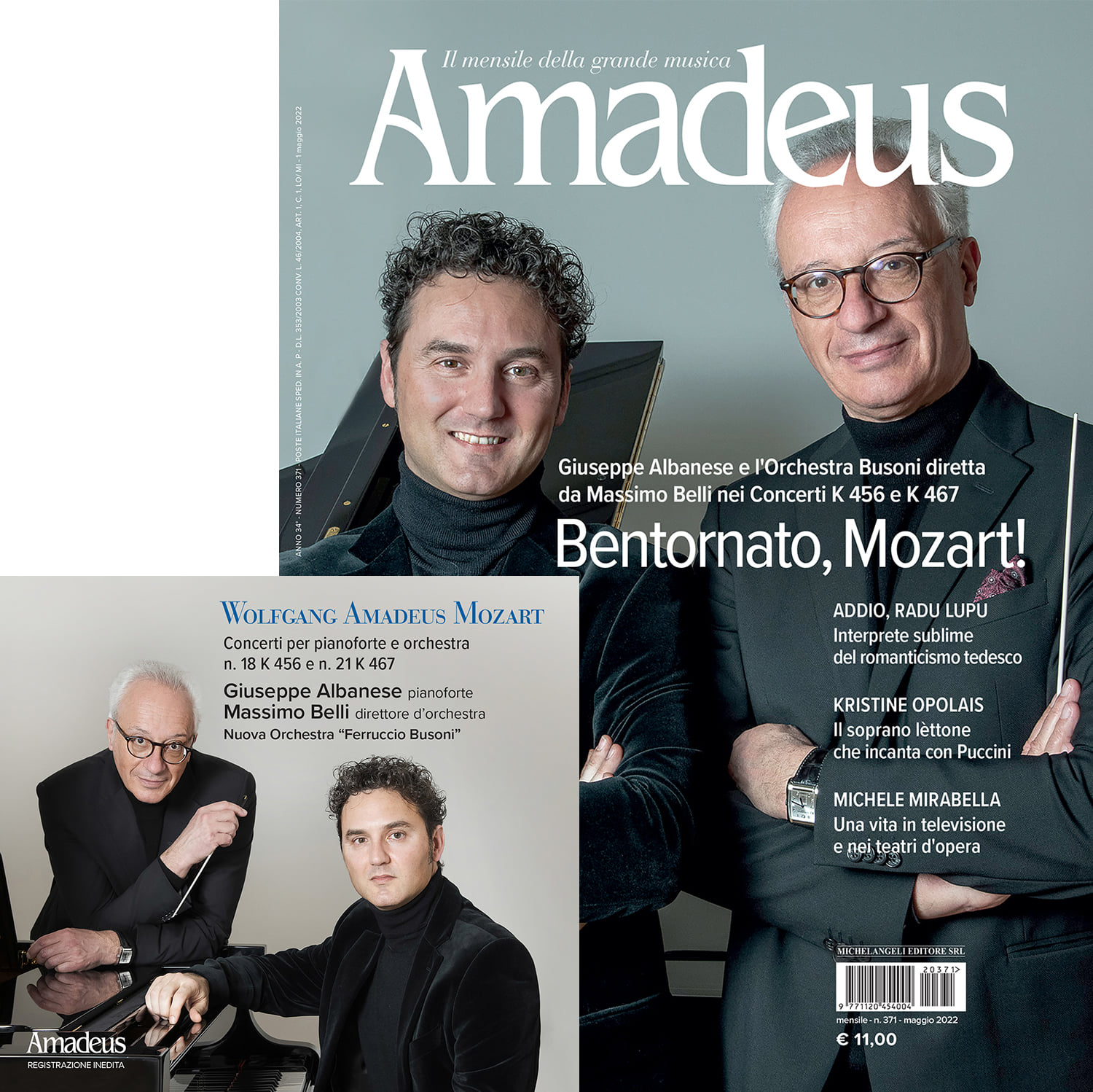 In May Amadeus is on newsstands with an entirely Mozartian unreleased CD. The multi-award-winning Reggio pianist Giuseppe Albanese interprets the Concerts n.18 in B flat major K256 and n.21 in C major K467 by the composer from Salzburg, accompanied by the Ferruccio Busoni Orchestra under Massimo Belli.
In the newspaper: double interview with Giuseppe Albanese and Massimo Belli, protagonists of the attached CD.
The Busoni Orchestra on Radio
Wednesday 2 February 2022, 9:30 am
On February 2, 2022 at 9:30 am on the channels of RAI Radio 3 the CD "VIVALDI, Concerts for Bassoon" will be presented with Gabriele Screpis, bassoon and Massimo Belli, director. The CD will be presented as part of the "FIRST MOVEMENT" radio program.
Review
Sunday 17 October 2021
A chamber orchestra from northern Italy impresses with Russian, Czech and British string music.
The Ferruccio Busoni Chamber Orchestra of Trieste proposes with great vigor and sensitivity three works from the last quarter of the nineteenth century, two of which are real rarities for string orchestra: L'Idillio in seven movements (1878) by Leoš Janáček and the Serenade in one movement by Vasily Kalinnikov in G minor (1891). It is not primarily a question of a beautiful sound and a well-rounded sound image, but rather of a sincere emotion, which the traditional orchestra conducted by Massimo Belli transports in an excellent way. In the Janáček suite and also in Elgar's famous opera, northern Italians also agogically offer their own readings which add further perspectives to the 'mother tongue' interpretations. And it is amazing how here the three works belonging to different cultural areas are found harmoniously side by side. There are no weaknesses, everyone experiences extremely comprehensive, sensitive and fascinating reproductions in well-balanced recording technology. Some of the most acclaimed ensembles of our time can't even come close to this "
Dr. Jürgen Schaarwächter, klassik.com
Municipality of Trieste
Thursday 16 September 2021, 11.00 am
The Fourteenth Century Seal of the Municipality of Trieste was awarded today to Maestro Massimo Belli in recognition of the extraordinary musical activity in the 55th anniversary of the foundation of the Busoni Orchestra, one of the pillars of the city's musical culture that makes prestige nationally and internationally .